La Cabane by Jean Imbert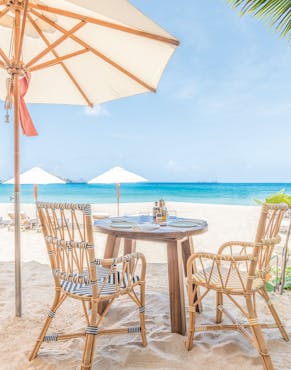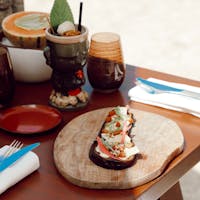 As of October, Chef Jean Imbert presents alongside Chef Anthony Suivant a new culinary journey at La Cabane restaurant.
A landmark restaurant facing the sea with interior design by Jacques Grange, La Cabane is a true gateway to the tropical pleasures of the Baie des Flamands. Caressed by the sea breeze, this welcoming oasis has accounted for every detail so that relaxation and authenticity are the natural result: sophisticated, but with bare feet in the sand.
A pair of tribal-inspired statues provides you with a warm welcome, inviting you to discover the exotic spirit of the place. The artfully chosen textile and decorative elements form a harmonious ambience with the palms and lush foliage in many shades. Chef Jean Imbert has reimagined tableware so that each item — whether an artisanal wicker basket, a brilliant blue plate, a terracotta jar or the pearlescent cutlery — evokes Caribbean latitudes. On the plate, raw fish from the morning's catch, fresh produce, and generous platters to share set the scene for a sun-soaked reunion.
Discover