The new face of Le Carrousel and Le Paddock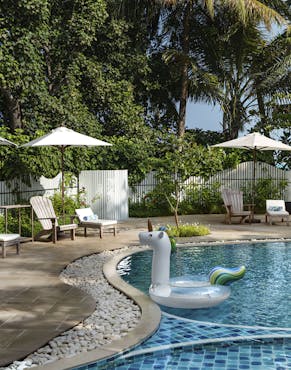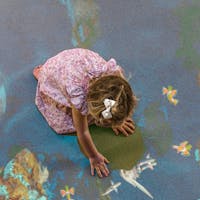 At the centre of the tropical world of Cheval Blanc Randheli, the children's kingdom crowned with a 500 m² house-cabin facing the beach is expanding and adding new opportunities for creative play.
As soon as they arrive, children are welcomed by the Ambassadeurs of Le Carrousel in three areas dedicated, respectively, to the youngest children, to teenagers, and to families.
As in a tale, everything is on a reduced scale. The borders between exterior and interior dissolve seamlessly, in perfect harmony with its surroundings. Walls painted with imaginary fishes enliven a playroom opening onto an outdoor trampoline and revealing a huge net tree, a slide and a climbing wall. On another wall, an interactive screen allows children to create their own virtual fish, which evolves among the corals and lagoons of the atoll and will be reactivated by the child each time he or she passes.
The many workshops designed and organised especially for teenagers are a haven for the most curious in search of discovery: drawing walls, virtual reality helmets, creative and sports areas are there for the enjoyment and edification of explorers of all ages.
Designed as an open book revelling in nature and the senses, Le Carrousel invites to a contemporary odyssey to create unforgettable memories of playful fun and marine dreams...
Discover