Sports Activities
Fit, healthy, happy, sunny. New birds or seasoned pros are challenged with state-of-the-art equipment, classes, and landscapes.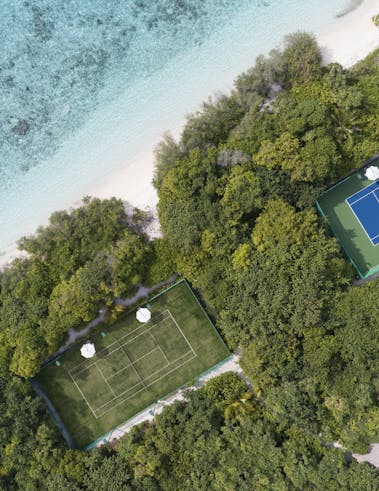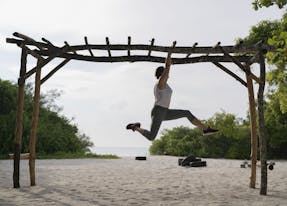 Outdoor Sports
If you have nailed your swing but fancy fine-tuning your lighter touch, the putting green is the place to be. With the sand as your backdrop, the 5-hole putting green invites both keen golfers and beginners to improve their game. Challenge seekers can also refine their skills, teeing off on the new floating golf platform. Or perhaps you might prefer to hit a few balls on Maakurandhoo Island's tennis courts? Meanwhile, at the heart of the lush jungle, a fitness bootcamp awaits the fearless, revealing your inner adventurer. Stamina and strength are put to the test, whilst team spirit is paramount. Take part with family or with friends; energy and group motivation are essential.
Fitness & Personal Training
Veins pumping, adrenaline rushing. Rest a while, run a mile. A beachfront fitness centre welcomes athletes of all level at all hours of the day.
Personal trainers push personal records with today's best in fitness from TRX, circuit training. The all-new indoor cycling classes are your chance to set a new record. Following a natural breathing pattern, Pilates helps to improve flexibility and endurance.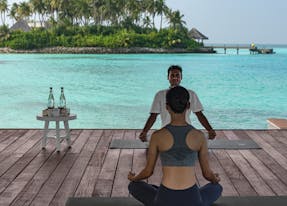 Yoga & Meditation
Salutations to the sun and breathing in tune to the sea, yoga and meditation is offered on ivory beaches, jungled gardens or overwater pavilions around the Maison. Cheval Blanc Randheli's resident yoga master offers one-of-a-kind tailored yoga programmes to combat stress, fatigue, aches and pains.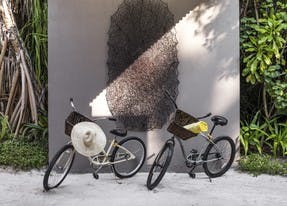 Glimpses of the Maldives
@ChevalBlancRandheli