Garden Water Villa
Rise to the sun and drift to the shadows of the moon. Why choose between lush greenery and azure waters if one can have both?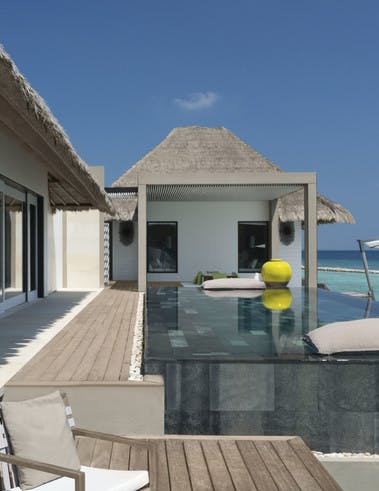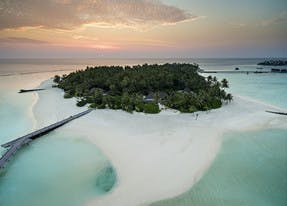 If water could talk, it'd tell secrets of here
Opening onto both lush gardens and the crystal ocean, this rare dual-personality villa experience offers a spacious living room, powder room, master bedroom with a double dressing room, bathroom with indoor and outdoor rain showers, a bathtub and separate toilet.
Some villas offer a second bedroom with a grand dressing room, grand bathroom with a rain shower and bathtub.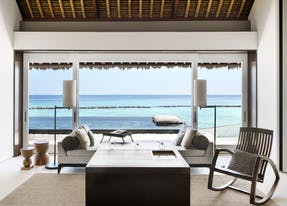 On the ample overwater decks, the villa features a dining table with sunken benches and a blissful outdoor lounge with armchairs and loungers, an outdoor rain shower and 12.5-metre-long private infinity pool.
In the rare gardens, plush ottomans and chairs invite guests to immerse in Maldivian serenity.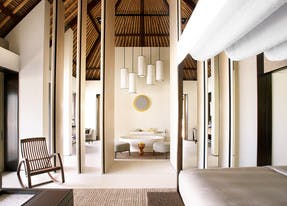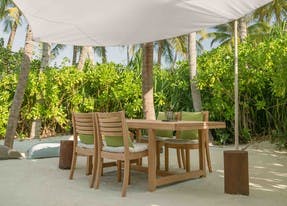 Discover the Garden Water Villa
220 sqm (2,370 sq ft) one-bedroom or 295 sqm (3,175 sq ft) two-bedroom villa with ocean views
Spacious living room, powder room
Overwater decks with dining and lounge areas, 12.5-metre-long infinity pool
Private garden with dining area
Bathroom with dual-vanities, bathtub, rain shower, and double dressing room
Signature Cheval Blanc Randheli Island Chic amenities
Glimpses of the Maldives
@ChevalBlancRandheli