Art & Design
An eye for detail, a true residence at heart, Cheval Blanc Courchevel plays with winter fire with bold statements.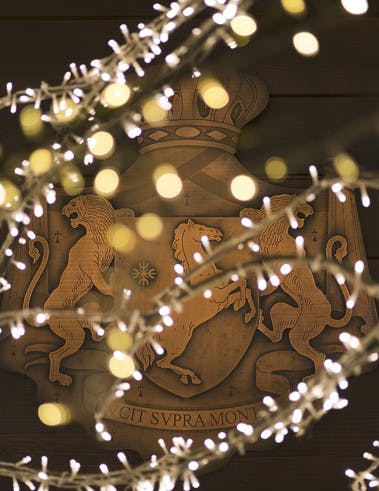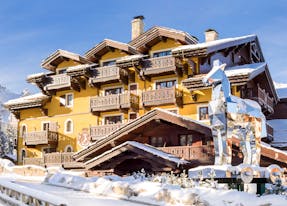 Contemporary art at the summit
In front of the entrance, Bruno Peinado's Cheval de Miroirs welcomes each guest – an invitation to discover the art collection that enlivens every corner of the Maison. Since its creation, contemporary art has been at the heart of Cheval Blanc Courchevel's identity. Works by Paola Pivi, Walter Niedermayr and Xavier Veilhan are present in the salons, rooms and restaurants to surprise you and to stimulate your imagination.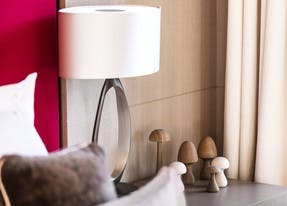 Mirrored alps and twinkling eyes
Using traditional mountain materials alongside a modern colour palette and original pieces of art, interior designer Sybille de Margerie makes a bold declaration for a reinvented ski holiday. The sensuality and sophistication of cosy materials – cashmere, fur, leather – complement the cool elegance of steel, bronze and polished brass.
Conceived in a warm and contemporary spirit, each room embodies a unique personality for a true residential experience.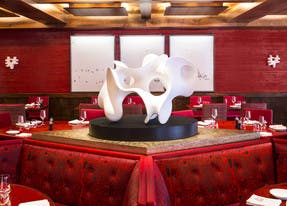 A signature Maison identity
Signature Taupe:
Courchevel's iconic colour transports Cheval Blanc to the natural surroundings of the French Alps. Subtle, sensual and refined, the colour is seen in the Maison's design and decoration, as well as its bespoke amenities and seasonal collection of gifts.
Mountain Chic:
Cheval Blanc Courchevel's signature scent is an enveloping, spicy fragrance reminiscent of the East. The Maison's candles, diffusers and made-to-measure amenities exude cosy notes of orange, cardamom, amber and patchouli, wrapping every guest in a blanket of winter warmth.
Glimpses of Courchevel
@ChevalBlancCourchevel