Sweet winter reveries as told in four floors. A wonderland for ski-squads. Penguins here, bears there - a few sneaky forest friends for a warm welcome home.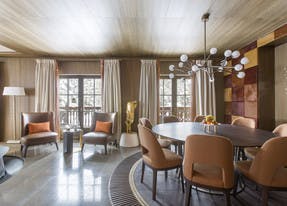 A place to call one's own
An exclusive, three-bedroom residence spread over 4 floors with lift access, the Chalet embodies true alpine comfort.
The Chalet features a vast living area with a modern fireplace, a dining room, a private screening room as well as its own spa treatment room, relaxation lounge, sauna and hot tub.
For ultimate guest comfort, three generously appointed bedrooms invite guests to enjoy the sweetness of life amidst the snow-veiled landscapes. Each bedroom features a cosy living room, bathroom with a bathtub and hammam-rain shower with chromotherapy and separate dressing room.