Carte Blanche
Breakfast in bed, lunch in the garden, dinner for two. Stay still, stay relaxed, let the Carte Blanche Ambassadeurs conjur a delicately designed menu.
Here, there, anywhere
Whether a private in-room dinner, convivial beachfront barbecue, or tailored picnic to take away during an island discovery in the Maison's bespoke Mini-Moke, the Carte Blanche Ambassadeurs are available to create a made-to-measure menu with the Maison's chefs.
Carte Blanche in-room dining is available 24/7.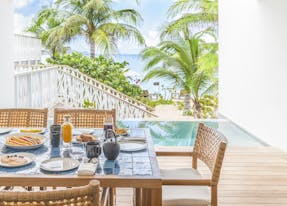 Glimpses of St-Barth
@ChevalBlancStBarth